mascarpone
panna da montare
zucchero
uova
cacao amaro in polvere
caffè q.b.
biscotti savoiardi o pan di spagna

The Best!
I Love Mascarpone!
È un ingrediente straordinario, col dolce o col salato rende ogni piatto indimenticabile…
E questa ricetta, semplice e goduriosa, è di un dolce Cult della mia collezione!
Mascarpone Tiramisù
Preparare il caffè, una caffettiera moka da 5 tazze, e lasciarlo raffreddare in un a ciotola capiente adatta per bagnare i biscotti. Intanto montare la panna ben ferma.
Separare i tuorli dagli albumi e con una frusta montarli con lo zucchero fino a renderli spumosi.
Unire delicatamente con una spatola o un cucchiaio di legno, prima il mascarpone poi la panna montata.
Inzuppare velocemente metà dei biscotti savoiardi in modo che non si bagnino nè troppo nè troppo poco. Sistemarli affiancati per formare il fondo del dolce nello stampo scelto. Coprirli con metà della crema all mascarpone.Ripetere con i rimanenti biscotti sempre bagnati nel caffè e coprire il tutto con la crema al mascarpone.
Spolverare con il cacao e…avete creato un buonissimo Tiramisù!
Prima di consumarlo passarlo nel freezer almeno 4-6 ore e lasciarlo scongelare un poco affinchè raggiunga la consistenza di un semifreddo per poterlo tagliare in porzioni quadrate
da servire in piattini spolverando ancora con buon cacao in polvere.
Le mitiche variazioni – Coppe al mascarpone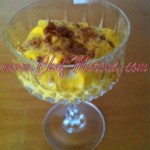 Una versione più ricca e monoporzione da preparare in coppette individuali con un solo strato di biscotti savoiardi sul fondo e tanta crema al mascarpone preparata con metà dose di panna montata.
Decorare la superficie con cioccolato fondente sbriciolato grossolanamente e amaretti sbriciolati o singoli bagnati velocemente nel caffè.
Oppure riempire semplicemente di crema al mascarpone le coppette individuali e coprire con frutti di bosco lasciati macerare precedentemente con poco zucchero.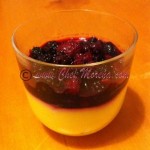 Lasciare riposare in frigorifero per almeno 12 ore prima di consumare.
Le mitiche variazioni – Mascarpone con Barozzi o Tenerina
Un altra variazione da servire in piattini individuali, tipica del Bolognese dove i cuochi pasticceri prendono a prestito da Modena e Ferrara i due dolci caratteristici…ma quale sarà il più buono?!…io non ho ancora deciso…continuo ad assaggiare!!!!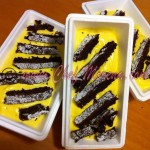 Preparare in anticipo la Torta Tenerina (ricetta di Ferrara) o la Torta Barozzi (ricetta di Modena) e lasciarle raffreddare.
Preparare la crema al mascarpone con metà dose di panna. Sistemare nei piattini individuali fette di Torta e crema Mascarpone decorando con buon cacao amaro.
….una libidine!!!

The Best!
I Love Mascarpone!
It's an extraordinary ingredient, very good to create sweet and sour fantastic recipes…
And this one it's a very simple recipe, a 'Cult' in my collection!
Mascarpone Tiramisù
Prepare the coffee, a big italian coffeemaker or 4 cups strong american coffee, and leave it to cool down in a bowl suitable to dip the biscuits in. Meanwhile get the cream well dipped with some sugar.
Whisk the yolks with remaining sugar. With a spatula gently add the mascarpone first and then the whipped cream.
Dip savoyards biscuits in the coffee (not too much and not too little) and align them in a tin. Cover with half mascarpone cream then create a second line of biscuits dipped in the coffee and cover again with the remaining cream.
Sprinkle with good cocoa powder and…that's it! You created a wonderful Tiramisù!
Let it freeze and, before serving, wait some time until you can cut it into single squares portions to serve in plates sprinkled with other cocoa.
Wonderful variations – Coppe al mascarpone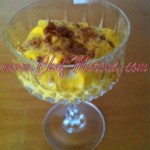 A rich version to serve in single cups
with only one layer of savoyards
covered with lots of mascarpone cream
prepared with half amount of whipped cream.
Sprinkle with pieces of dark chocolate and/or coffee dipped macaroons.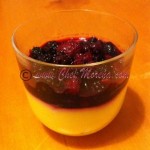 Or simply, serve in a single cup mascarpone cream
covered with sugar marinated berries.
Refrigerate half a day before serving.
Wonderful variations – Mascarpone con Barozzi o Tenerina
Another variation to serve in single plates, a typical recipe where Bolognese pastry chefs borrow typical cakes born in near cities Modena and Ferrara …which one is the best?!…I haven't decided yet…still checking!!!!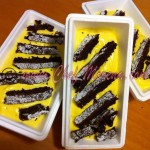 Cook in advance Torta Tenerina (Ferrara recipe) or Torta Barozzi (Modena recipe) and let cool down.
Prepare Mascarpone cream using half amount whipped cream. Create your single plates with Torta Tenerina or Torta Barozzi slices, covered with mascarpone cream and sprinkle with good dark cocoa.
….what a lust!!!