INGREDIENTI:
uova e farina per la sfoglia
ripieno: carne di maiale, prosciutto, mortadella, parmigiano, uova, sale, pepe, noce moscata
brodo di carne o di cappone per cuocere
INGREDIENTS:
eggs and flour for pasta dough
lean pork, bologna, ham, eggs, parmesan cheese, slat-pepper-nutmeg for the filling
capon, beef meat, marrowbone celery-carrot-onion-tomato for the broth

Ripieno: amalgamare la lonza di maiale, la mortadella e il prosciutto tritati , le uova, parmigiano grattuggiato, sale-pepe-nocemoscata.
Sfoglia:  uova,  farina. Tirare la sfoglia abbastanza sottile col mattarello. Tagliare dei quadretti con la rotellina smerlata. Riempire ogni quadretto con una pallina di ripieno, chiudere il quadretto a triangolo e poi unire le due punte intorno al dito indice.
Eventualmente munitevi di kit videoconferenza e datemi un appuntamento via e-mail.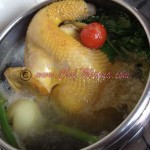 Brodo: 1 cappone (oppure 1 bella gallina), 1/2kg carne da brodo, 1 osso, sedano-carota-cipolla-pomodoro, 1 dado e sale grosso
Mettere tutto in pentola a pressione scoperta, quando bolle eliminare la schiuma poi chiudere e cuocere per 40 minuti dall"inizio del fischio (1 ora se optate per il cappone). Se non avete la pentola a pressione il tempo di cottura sale a 2 ore.
Passare il cappone in forno a dorare e servire con il resto della carne bollita e un contorno di salsa verde, sottaceti, patate al forno.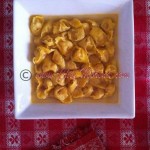 Filtrare il brodo, regolare di sale e cuocere i tortellini (per 4 persone: 500gr).
Sono ottimi!
Suggerimenti per preparare degli ottimi tortellini:
Ricorda vanno sempre cotti nel brodo di carne
o almeno nel brodo fatto con dado di carne,
mai nell'acqua salata!
Poi, invece che gustarli in brodo, potete condirli con: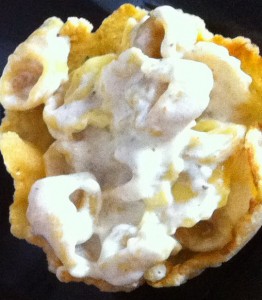 Panna: in una padella scaldare la panna fresca(quella da montare, …ma non dovete montarla!) con due cucchiaiate di parmigiano grattuggiato e unire i tortellini cotti al dente. Tirare a fuoco medio per qualche minuto.
Ragù: in una padella tirare a fuoco medio per qualche minuto i tortellini cotti al dente con il Ragù (vedi ricetta "Ragù del Nonno") e, volendo, un pò di panna fresca.
Mascarpone e noci: tritare 50 gr. di noci sgusciate, mescolare con 2 etti di mascarpone, 2 cucchiai di brandy, sale pepe e una presa di timo. Condire i tortellini cotti al dente.
Buon Appetito!

ENGLISH VERSION RECIPE
…Ringlets of pasta filled with minced meat cooked into capon broth…
Sheet of pasta dough: knead 10 eggs, 2,2 lbs flour, roll it thin with a rolling pin. Cut it in little squares and fill them up with a bit of filling, fold each square into a triangle and then join the two tips around your forefinger. If you are in trouble equip yourself with a Videoconference kit and give me an appointment via e-mail.
Filling: mince  lean pork,  mortadella and ham , mix with  eggs, parmesan cheese, salt-pepper-nutmeg.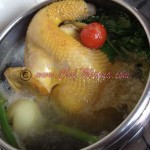 Broth: 1 capon (or a fat hen), 1 oz beef, 1 marrowbone, celery-carrot-onion-tomato, 1 bouillon cube and cooking salt.
Boil in pressure cooker for about 1 hour, then filter the broth and cook the Tortellini (4 persons: 1 lb).
Really excellent!
Don' t trash the Capon!
Brown it a bit in the oven and serve it with the other boiled meat, green sauce, pickles and roasted potatoes.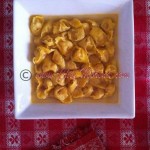 Remember the rule:
never cook Tortellini in salted water,
if you don't want to make the broth at least use a stock cube to prepare a broth.
If you don't like the broth you can dress Tortellini with:
Ragù: use meat sauce and some cream to dress tortellini cooked 'al dente'.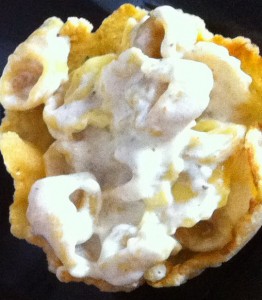 Cream and cheese: warm some cream and grated parmesan in a pan, add tortellini cooked 'al dente' for a minute and serve.
Mascarpone and walnuts: mince a small cup of walnuts, add to a cup of mascarpone cheese, 2 spoons of brandy, salt pepper and some time. Dress tortellini cooked 'al dente'.
Happy Meal!