INGREDIENTI:
1/2 mazzetto di Asparagi, 7 pugni di riso Carnaroli, aglio, vino bianco, olio EVO, burro, parmigiano, 750cl brodo di dado
-------
INGREDIENTS:
Asparagus, Carnaroli rice, broth, olive oil, butter, garlic, white wine, grated parmesan, salt and pepper

Un classico, ottimo risotto…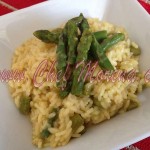 Pulire, eliminare la parte bianca e lessare gli asparagi al dente in acqua salata.
Soffriggere brevemente in burro e olio l'aglio tritato.
Unire il riso e far tostare, unire il vino e far evaporare, unire il brodo a mestolini un poco alla volta, mescolando con un cucchiaio di legno per 13-14 minuti. A metà cottura aggiungere gli asparagi a pezzettini (tenere le punte per decorare in ultimo). A fine cottura regolare di sale e pepe, mantecare con burro e parmigiano.
Un classico,  ottimo risotto…
…ma se volete strafare,
un'ottima variante e' il risotto agli asparagi mantecato con zafferano e speck!
A meta' cottura unire zafferano in polvere e un paio di minuti dalla fine aggiungere lo speck tagliato a listelle.

A classic, excellent risotto … I love it!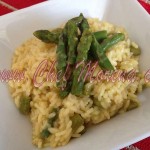 Clean, remove the white part and boil the asparagus al dente in salted water.
Briefly fry the minced garlic in butter and oil.
Add the rice and toast, add the wine and let it evaporate, add the broth in ladles a little at a time, stirring with a wooden spoon for 13-14 minutes. Halfway through cooking, add the asparagus into small pieces (keep the tips to decorate at last). At the end adjust with salt and pepper, stir in butter and grated parmesan.
A classic, excellent risotto …
… but if you want to enjoy it at its best,
an excellent variant is the asparagus risotto creamed with saffron and speck!
Halfway through cooking, add the saffron powder and a couple of minutes from the end add the speck cut into strips.
Enjoy!